We are writing today to let you know about improvements we are making to the Easynic reseller system. Our team have been working hard in the background, updating the systems, control panels and product lines. As we approach the 1st mile stone of our improvement plan, we will be releasing a new end-user control panel.
These are also exciting times for domain names! Rest assured Easynic will be taking part in the new gTLD launches. We will also have some news about the Trademark Clearing House with you guys very soon.
More on that soon, now back to our (your) new toys !
The End User Control Panel
The End User Control Panel (ECP) gives you the ability to provide a configuration & support area to your end customer. Initially you will be able to access this new from the MANAGE CONTACTS area of your Easynic control panel.
The Screen below shows where you will be able to access the end user control panel.
It's your choice as to whether you give access to the end user, but you always have access to the username and password – should you ever need to provide it to them.
The control panel will form an integral part of the new Reseller Control panel (estimated launch –Jan 2014).
New support area
As part of this initial launch we have also provided links to a new improved support area. This area will be particularly useful when setting up email and FTP account for your end users.
There is also a little trick to the new support area: If you are setting up a new email account – we overlay the correct setup details into screen shots. It makes it clearer for your end users, and limits the amount of time you spend on 1st line support.
Improvements summary:
• The new end user control panel has new interfaces to help setup & configure products
• Access to generic end-user support guides to reduce your support overheads
• Mobile friendly (responsive) & brand able.
A sneak preview of the End User Control Panel
Example of the end user control panel home page (please note: some products will not be available on launch)
Example for setting up and managing email accounts: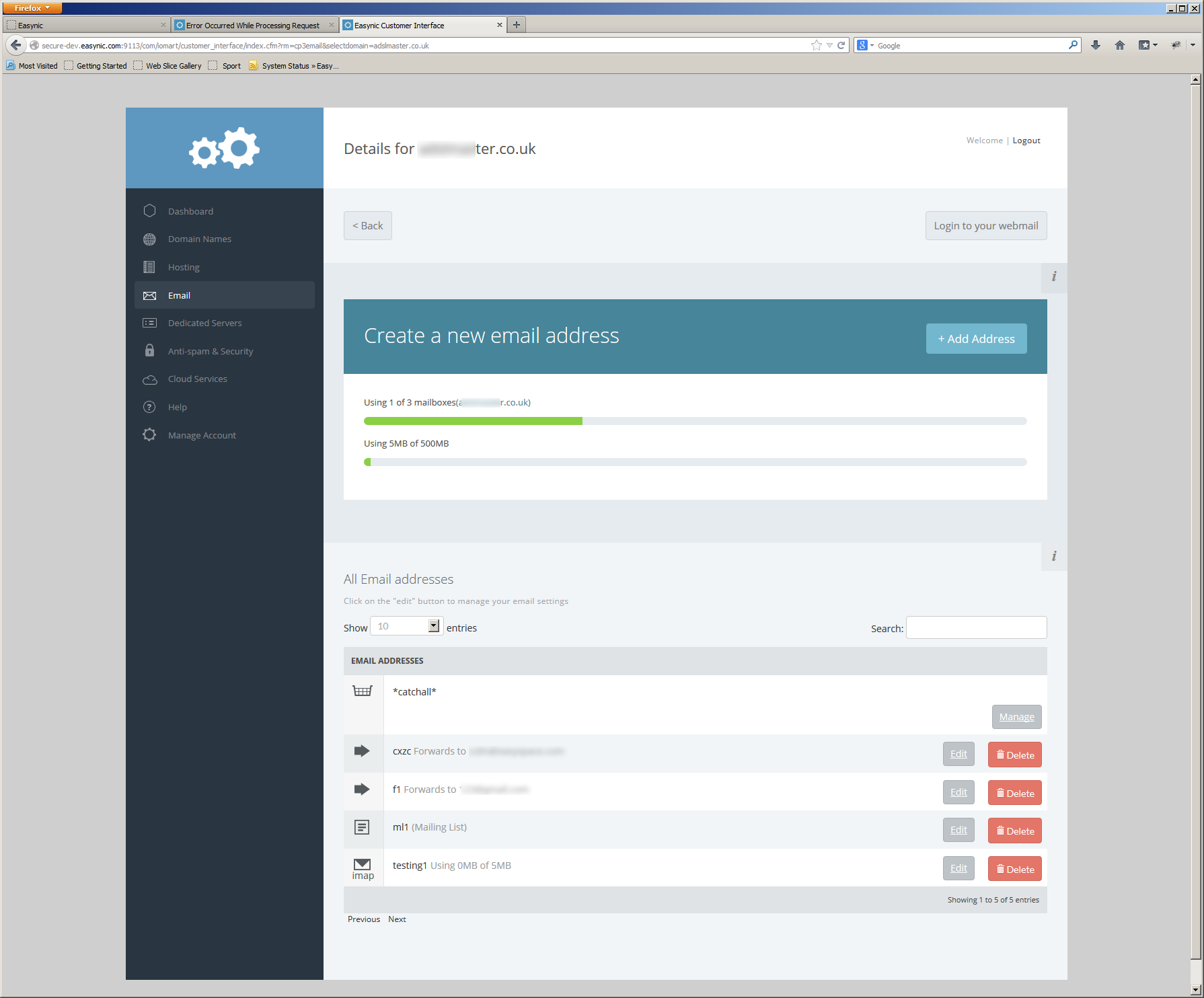 Access to YourSupportServices:
An area that contains guides for email clients, FTP settings and DNS guides.
We have already published some "how to" guides that show some of the things you can do with the End User Control Panel – you can see these here : http://www.yoursupportservices.co.uk/yourcp
Initial changes to the Easynic Control Panel
This control panel can be configured from the main Easynic Reseller Control Panel (RCP) by selecting 'Account Config' and then 'Control Panel setup'.
This is just the first step in what we know will be a great year for Easynic – there are massive improvements, new products and plenty of new domain names coming your way!
If you have any questions about Easynic reseller system please do not hesitate to get in touch with us on: 0370 757 4400 for sales enquiries – or please contact support on: 0370 757 4243.
Thank you for choosing Easynic, we appreciate your business and are excited about the upcoming year!
Regards
The Easynic team